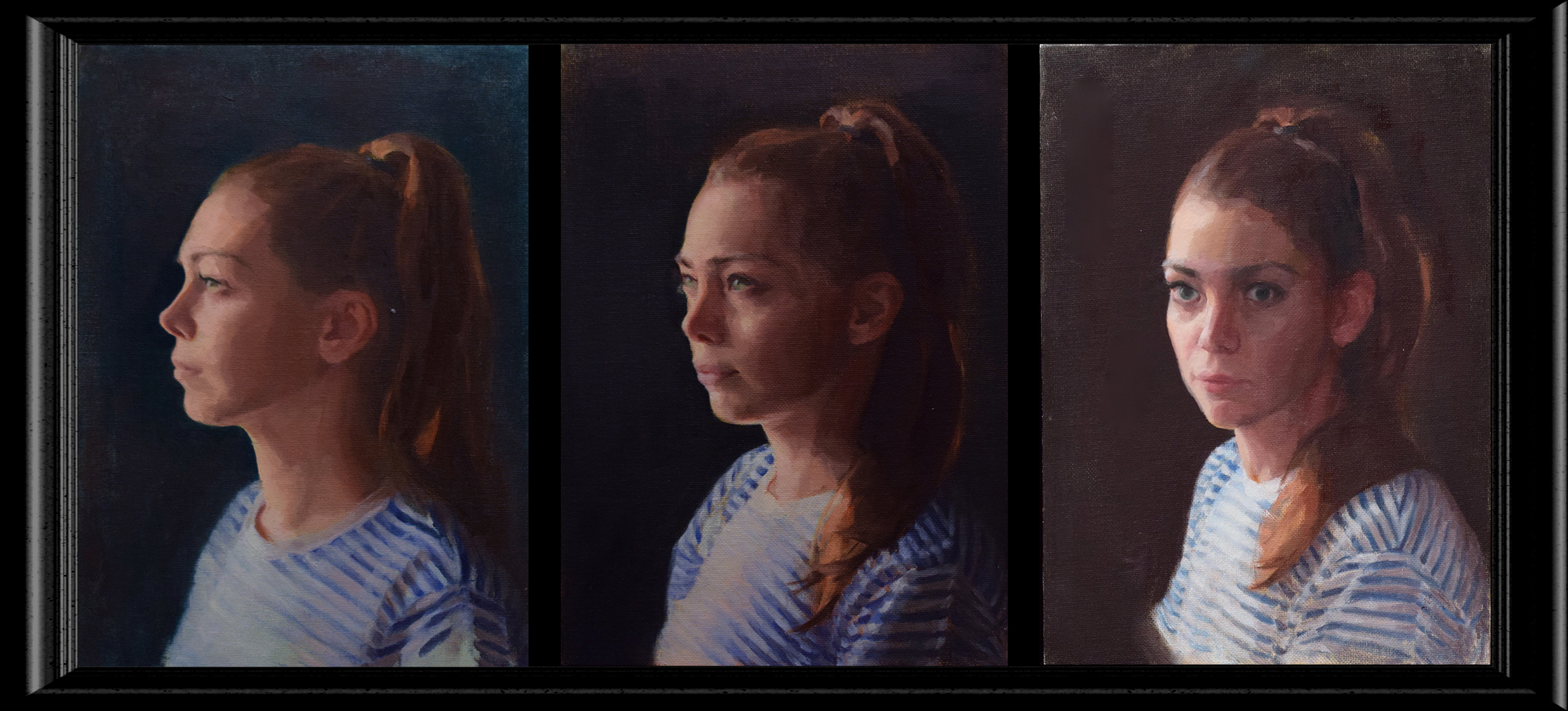 Lucy' (triptych), Harriet Spratt
'LUCY' BY HARRIET SPRATT
---
Harriet Spratt specialises in contemporary portrait. Her latest painting – a triptych of 'Lucy' – is intriguing in many ways. We asked her a few questions about this work, and what makes it so engaging and special.
Lot 5: Who is Lucy, and why did you choose to paint her?
Harriet:
Painting Lucy was a happy accident. While I was drawing a friend at her house, her housemate Lucy was sitting at the window. I noticed the strong light effect on her face, and the glowing quality it gave her. It reminded me of a painting by Kim Cogan which I love, and has stuck in my mind. I immediately wanted to have a go painting her in the setting. So I asked if I could take a photo and do a quick sketch. She agreed. I then did a study in the studio.
Lot 5:
The triptych is an interesting format – what provoked that decision?
Harriet:
It wasn't until after the first painting that I decided to do a triptych. I enjoyed doing the painting, and wanted to do another. I imagined her slowly turning towards me while still under the glowing light, and thought of no better way to do this than a triptych. I contacted Lucy to see if she would be willing to sit for me again in the three-quarter and front-on poses, and she was. This created some difficulties, as the light was different when Lucy sat for me again, and I wanted the triptych to have unity, and look like Lucy was turning in one movement, in the same moment of time/light. So the first painting became my main reference for values and colour, and I based the other two on that.
Lot 5:
There's a real sense of movement in the paintings: you get the impression that Lucy has just noticed you and is turning to meet your gaze. How do you expect / how would you like viewers to respond to this?
Harriet:
After I did the second painting in the three-quarter view, I was keen to paint her face, finally, hitting us front on, while leaving her chest to be flooded by light. It was exciting to me that I could portray a sense of Lucy moving, trying to add life to the portrait with these three viewpoints.
I hope that the viewer might engage more with the paintings because of this: as if Lucy is personally turning to each onlooker, an individual interaction sparking some sort of relationship. I hope this might catch the viewer's attention.
When I start painting, I like to have an idea of how the painting will turn out. But once I start, I find the painting tells you what to do. In this particular painting, I found the development was clear to me. I realised I wanted to continue the movement of Lucy in more than one painting – and eventually did three.
In time I am tempted to do more than three, adding paintings of Lucy turning away from us, possibly displaying all the paintings around the walls of a room (ideally a circular room), so the viewer themselves has to turn their head all the way around to see all the paintings, forcing them to physically interact with the portraits. If not with Lucy, then something for the future.
Lot 5:
Historically – with notable exceptions – most portraits of women have been painted by men, for men. This is very different – how do you think it changes the way it's been painted and how it will be understood?
Harriet:
A few years ago, my grandma gave me a book called "Danger! Women Artists at Work" by Debra N. Mancoff. The book begins with the words: "The conventional history of art is one of great men making great paintings, and displaying their works to a predominantly male audience in male-run institutions". This is not the future.
Flicking through this book before going to sleep has possibly, if not consciously, had an effect on me as I do seem to paint more women than men. Unsurprisingly, I can understand and relate to women more. I often already know, or get to know, the person I am painting and so I get a sense of how they will want to be painted and appear to the world.
Lucy is a freelance graphic designer. She is confident and in control. I think you get a sense of that.
'Rebecca', another of my sitters, had just found out that she was pregnant. In the painting she looks calm and happy. I feel that sense of nurturing comes across.
'Rebecca', Harriet Spratt
My friend 'Catch', who also modelled for me, had just launched her own jewellery business. I think, and hope, I have painted her as she would like to be seen.
'Catch', Harriet Spratt
Maybe I can relate to and understand these women in a way that a man couldn't, and that in turn influences the set up and way in which they are painted.
While writing this, I saw that The Whitechapel Gallery is currently celebrating 'Women in Art'. The exhibition includes artists such as Barbara Hepworth, who claimed "Art is anonymous. It's not competitive with men. It's a complementary contribution." Good timing – as it backs my thoughts!
---
You can find out more about Harriet on the
Lot 5 Collective web site
. "Lucy" is for sale @ £2100 (€2510 or USD 2620 at current exchange rates). Email
info@lot5collective.com
if you're interested in buying it or any other of our works.
December 21, 2016
Follow Lot 5 Collective
︎
︎