HEART BY HELEN MASACZ
---
You've probably seen a hundred, a thousand, still-lifes on the walls of museums and galleries: rows and rows of static, serene and beautifully painted arrangements of everyday objects. But you've certainly never seen anything quite like Helen Masacz's painting
Heart
. At one level it's traditional – a representational oil painting of meat, grapes and wine on white linen – but within those boundaries Helen's interpretation is radical and innovative. It is the antithesis – both in terms of content and composition – of the classical still life: viewed from above, brutally cropped, violently bloody and dramatically composed, it's a visual punch in the guts. We loved this painting so much we decided to ask Helen a few questions about it.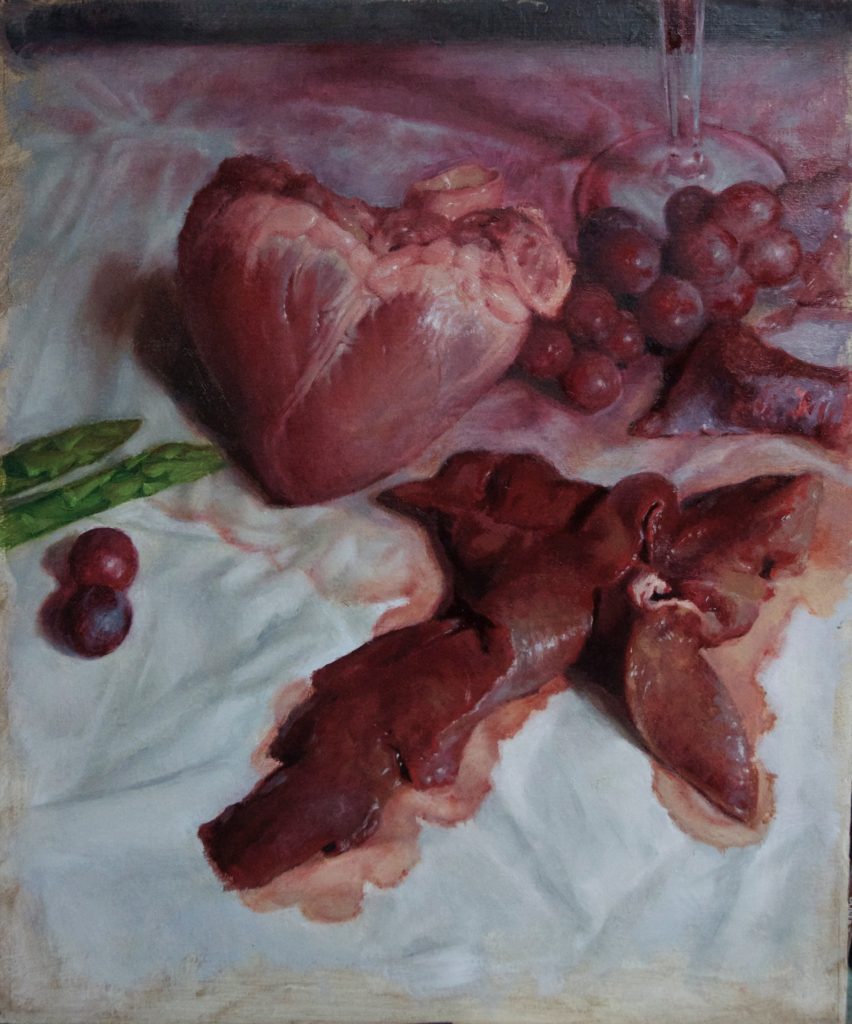 'Heart' by Helen Masacz, 2016, Oil on board, 35cm x 26cm, £1750
Lot5:
Can you tell us a little bit about how you've re-interpreted the still-life in this image?
Helen:
I enjoy taking tradition and making it more relevant, painting a response to issues surrounding us and what it means to be human in the 21st century. I choose objects which inspire me and make me want to paint them. That's the starting point, then if the viewer engages with my painting and finds depth, that's a job well done.
Heart
is a representation of the idiom "wearing one's heart on your sleeve" and there are two sides to this. Firstly, the subject matter and its interpretation and then the literal action of hanging a work to exhibit which unavoidably means an essence of myself is laid bare. It's very much representational of media culture and how public displays of emotion are normalised.
Lot5:
Perhaps I'm overthinking it, but it seems a symbolic, passionate, almost sexually violent picture – a spear of asparagus with two grapes hanging just under, pointing at a bleeding heart; the wine; the raw meat; the bloody linen. Do you have anything to say about that particular interpretation?
Helen:
The painting can mean different things to different people, and your take on the narrative is in line with my intention- a human heart, asparagus, the bloody stains, the glistening raw meat etc. are deliberately arranged to communicate an emotion of indulgence and betrayal. I like to use narrative in my work, sometimes it can be humorous but other times there's a more serious intention.
'Heart' (detail) by Helen Masacz, 2016, Oil on board, 35cm x 26cm, £1750
Lot5:
A human heart? Can you tell us about the logistics of painting this work?
Helen:
As you can imagine it's pretty tough getting hold of a human heart these days, so one has to improvise. Fresh organs have a quick turning point, oxidation takes over; one has to work quickly. You paint the objects which oxidise the fastest and then concentrate on the more durable objects.
Lot5:
The asparagus intrigues me – why did you choose to include that? Were there compositional / symbolic reasons?
Helen:
I use symbolism in my work, sometimes it's subtle but not in this case. Asparagus has been associated as a phallic symbol and is supposed to be an aphrodisiac. From a compositional aspect, in order to keep the viewer's eye in the painting I needed to balance the composition and keep the viewer engaged for as long as possible: the asparagus leads the eye to the heart. There's a lot of red in the painting and using a contrasting colour breaks it up. Green is the opposite colour of red and energises it.
Lot5:
Finally, are there any artists whose work you're responding to in this piece?
Helen:
I'm not sure if Dr Gunther von Hagens is seen as an artist, but to me he is not just a scientist but a sculptor, and I was fascinated by his Bodyworlds exhibition.
---
You can find out more about Helen on the
L

ot 5 Collective web site
.
November 1, 2016
Follow Lot 5 Collective
︎
︎